Truck Accident Lawyers Chicago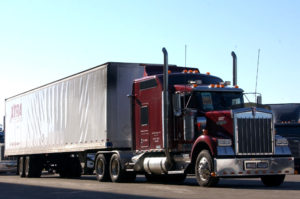 If you or your family member has been hurt or seriously injured in a severe collision with a truck or tractor-trailer, get help from our Chicago truck accident lawyers. The many complex problems related to truck crashes require quick action. 
The negligent maintenance or operation of a truck, semi-truck, or tractor-trailer causes devastating consequences with catastrophic injury and death. These heavy-duty vehicles often exceed 75 feet in length, and with a full load can often weigh as much as 80,000 pounds or more. Those who drive and maintain these big rigs must be well trained, well-rested, and follow the rules of the road. When truck drivers and the companies that employ them fail to follow these rules, the law makes them responsible for compensation for wrongful death or any personal injuries that result.
From federal and state regulations governing the trucking industry to navigating the nuances of commercial insurance claims, the Vinkler Law legal team has the expertise you need to achieve maximum recovery. Our firm will fight to ensure that you receive fair compensation for your injuries, hospital and medical expenses, future medical costs, and loss of income, as well as pain, suffering, and other emotional and financial losses.
Schedule a Free Case Evaluation
Types of Truck Accident Cases We Handle
As Chicago truck accident attorneys, we focus on personal injury law related to injuries suffered by victims involved in semi-truck and vehicular accidents and any related property damage. When these accidents result in a fatality, we represent the surviving loved ones in pursuit of wrongful death actions. 
Common Causes of Truck and Semi-Truck Accidents 
Some of the more common causes of truck and semi-truck accidents in Illinois involve: 
Texting while driving

Distracted driving 

Speeding

Driver fatigue or sleepiness

Drunk driving or driving under the influence (DUI)

Reckless lane changes

Reckless driving
Types of Common Truck Accidents in Illinois
Roads and highways in Chicagoland are busier than ever, with heavy traffic and road construction at an all-time high. The most frequently occurring car crashes and truck accidents we hear about on Interstate 55, I-90 or the Elgin O'Hare Expressway (Illinois Route 390) include:
Blind Spot (No Zone) Accidents
Because trucks and tractor-trailers sit higher on the road than other vehicles, they have blind spots – or areas referred to as "no-zones." These blind spots make it more difficult for truck drivers to see smaller vehicles when making turns or changing lanes.
Cargo Spills & Cargo Shift Accidents
Cargo-related accidents often occur when the cargo is overloaded or not appropriately secured. When the driver of the truck or tractor-trailer makes a sudden stop or loses control, the load spills onto the road. Injuries and harm happen when cars are unable to avoid cargo spillage.
Jackknife Accidents
In a truck jackknife accident, the truck cab and its trailer yaws like a folding pocket knife, most often due to sudden braking. Because semi-trucks and tractor-trailers are very heavy, a jackknifing truck usually ends up rolling over, adding to the danger of these accidents.
Rear-End Accidents
A "rear-ender" occurs when a truck fails to slow down or stop in enough time to avoid hitting the vehicle in front of it. Often occurring due to brake-failure, reckless tailgating, or distracted driving, the results of rear-ending accidents are often devastating due to the massive size and weight of these trucks.
Head-On Truck Accidents
While less frequently-occurring than other types of truck accidents, head-on collisions happen when a truck driver loses control and veers into oncoming traffic with vehicles not having enough time to avoid a crash.
Rollover Accidents
Rollover accidents happen when drivers lose control of their trucks, whether from speeding, turning too quickly, cargo overload, or tire blowouts.
Side-Impact Accidents
Side-impact or "sideswipe" accidents often happen at intersections when a truck driver speeds through a red light or stop sign.
Underride Accidents
An underride accident happens when a truck makes a sudden stop, and the car following behind it is crushed on the underside of the rear of the truck.
Wide-Turn Accidents
When a truck driver fails to accurately calculate the amount of space needed for turning or misses seeing a smaller vehicle as a result of a blind spot (or "no-zone"), the smaller vehicle may be pinned against a road divider or another car.
Chicago Truck Accident Lawyers Ready to Fight for You
At Vinkler Law, our highly experienced Chicago truck accident lawyers provide expert legal representation that is aggressive and effective at obtaining full and fair compensation for truck accident victims and their families. Our legal team is committed to providing our clients with unrelenting dedication and excellent communication.

Aggressive Advocates for Victims of Truck Accidents 
If you or your family member was involved in an accident with a truck, semi or big rig, our Chicago truck accident lawyers are here to help. Experts in all aspects of truck accident claims and litigation, the Chicago truck accident lawyers at Vinkler Law have decades of experience helping victims and their families receive maximum compensation for the injuries and harm suffered as a result of truck accidents. We represent clients throughout the state of Illinois, with offices in Chicago and Burr Ridge and stand ready to fight for you.
To learn more about legal options available to you, contact us today for a free consultation.
Explore Our Practice Areas